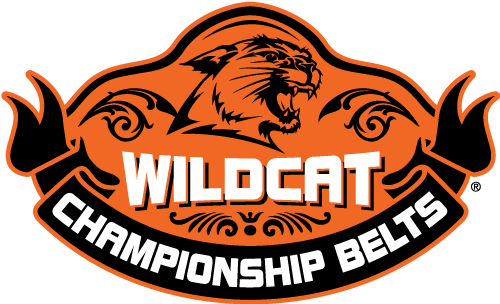 What's Happening in the World of Wildcat Belts?
As the world's source for custom title belts, we've got a lot happening here at Wildcat Championship Belts ‒ and we want to share the latest scoop!
Check out our newsletters, learn about our Little Champs initiative, and see where Wildcat has been in the news!
This Old House, the Undisputed "How-To" Champions
Andrew Lazarchik, the owner of Wildcat Championship Belts, makes a living constructing championship belts, so it should come as no surprise that he also loves the TV show This Old
House, a home improvement program all about construction and craftsmanship.
In fact, he enjoys the show so much that he decided to crown the television show This Old House the Undisputed "How-To" Champions. In January 2020, Wildcat fabricated a title belt –
complete with the This Old House crafted into the main plate – and presented it to the show's cast in recognition of the program's 40th anniversary.
"Growing up, the one show other than wrestling that I would watch all the time was This Old House," said Lazarchik, the owner of Wildcat Championship Belts. "As a teenager and even in college, we'd be sitting around the TV watching Norm Abram putting in a new door frame or resurfacing a floor. I have no ability to do any of it myself, but I enjoyed watching it then, and I still do today."
In 2019, he learned that This Old House was going on a tour of sorts, with live, in-person appearances. This included a stop at WQED, the PBS station in Pittsburgh, not far from Wildcat in Latrobe, PA. Lazarchik immediately knew he'd be attending.
"Then I got to thinking, they've supplied a lot of entertainment to me over the years and they are the first 'How-To' TV show and certainly the best. They really are the 'How-To Champions', and they deserve a belt," he said.
Wildcat got to work designing and crafting a custom belt for his favorite show. He then went to the event and presented it to the This Old House TV personalities, Kevin O'Conner and Jenn
Nawada. Not only did they pose for photos with their new title belt, but they also took it back to the This Old House studios, where it is permanently on display in recognition of being the true champion of its industry.
Nathan's Hot Dog Contest Title Belt a Symbol of Patriotism
It's an iconic annual scene that has become, in many ways, just as much a part of the celebration of our nation's independence as fireworks and Uncle Sam. Amid the blistering heat of July 4, on the corner of Surf and Stillwell avenues on Coney Island, a champion is crowned. Drenched with water, crumbs, and his own sweat, an elite performer – having just consumed more hot dogs in 10 minutes than any other human on the planet – slings a title belt over his shoulder.
.
The Nathan's Famous Hot Dog Eating Contest is held each year on the Fourth of July and is broadcast nationally on ESPN. The world's most skilled competitive eaters gather to compete for fame, prize money, and a highly sought-after, mustard yellow belt. In 2020, Joey Chestnut set a
world record when he housed 75 hot dogs and buns, before hoisting the belt in victory. That belt, created by Wildcat Championship Belts, is now an iconic symbol of competitive eating, the Nathan's contest and, in some ways, even Independence Day itself. It's essentially the Lombardi Trophy of the competitive eating world.
"Nathan's was my first really big account," said Andrew Lazarchik, owner of Wildcat Championship Belts. "We had them as an account even before we had WWE." Lazarchik founded Wildcat Championship Belts in May 2005. About a year later, he got a call from Ray Kuchinka, a friend who was watching the 2006 installment of Nathan's Famous Hot Dog Eating contest. At that time, Nathan's was presenting the champion with a homemade title belt that was essentially a bedazzled weightlifting belt.
"Ray called me and said, 'I'm watching the Nathan's Famous Hot Dog Eating Contest, and the belt they give to the winner, well, you could do something so much better,'" Lazarchik recalled.
As coincidence would have it, Lazarchik was watching the Food Network the very next day when Nathan's Famous Hot Dogs President Wayne Norbitz came on as a guest. That nudged Lazarchik to pursue the idea. He found the company's address, sent them a letter and some photos of his
work, and offered to create a belt more worthy of a world champion.
Initially, Nathan's sent Lazarchik a "thanks but no thanks" letter. However, on June 24 of the next year, things changed in a hurry.
"I got a frantic phone call from Major League Eating," recalled Lazarchik. "The current champion at the time, Takeru Kobayashi, had somehow lost the belt over in Japan. Nathan's contest was in
less than two weeks, and they didn't have a belt. They asked me, 'Can you do something for us
that quickly?'
"It was one of those 'when opportunity knocks' situations … I said, 'Yes, I can do that.' Then I hung up the phone and said to myself, 'OK, now I have to figure out how to do this.'"
Wildcat Belts worked feverishly and completed the belt by July 2. They had it shipped to New York City in time for the contest, meaning it was a Wildcat Belts' creation that was awarded to Joey
Chestnut when he won the 2007 championship.
Nathan's wanted that initial title to look somewhat like their old belt. So Lazarchik crafted it to be the same shape as the previous belt, with one center plate, the MLE logo, the Nathan's logo, and '1916' engraved in Roman Numerals, commemorating the year the contest started.
Now, Wildcat makes a new belt for the contest every year. In 2010, MLE launched a female division, and Wildcat began creating pink women's title belts, as well.
In 2016, when Nathan's Famous celebrated its 100 Year Anniversary, the belt design was upgraded to more of a
traditional title belt style, with four side plates and artwork featuring Uncle Sam holding a hot dog.
Securing Nathan's as a client was a major break in Wildcat's emergence. "It's one of these things where it gave us a lot of credibility," said Lazarchik. "It wasn't so much that people would see it on TV and then call me saying they wanted a belt, but when I would call people and tell them 'we make the belts for the Nathan's Famous Hot Dog Eating contest,' and people would say, 'Oh wow, these guys are legit.' It took our business to a whole other level."
Wildcat Belts Support Children's Charities
When Andrew Lazarchik founded Wildcat Championship Belts, he envisioned the belts he created would be for, well, wrestling. Through the years, that has evolved. Sure, they still make title belts for wrestling companies across the globe, up to and including the WWE, but he also makes them for corporate sales teams, competitive eating contests, and community festivals.
But, there's one category that means a little more than the rest. Lazarchik and Wildcat have created and donated professional-quality belts to terminally ill children.
"Those are the belts that mean the most," he said. The connection is through David Alan Clothing, a high-end, Pittsburgh-based men's clothing designer. Several high-profile WWE personalities – including John Cena, The New Day, and Titus O'Neil – are among his clientele.
Each year in Pittsburgh, David Alan Fashion presents a celebrity fashion show, featuring his star athletes wearing his custom clothing. Given Alan's connection with WWE, partnering with Wildcat Belts was a natural fit.
"There was a natural tie-in. I'm a Pittsburgh guy who does a lot of work for the WWE, and then I heard that the guy who makes the belts for WWE is a Pittsburgh guy too," said Alan. "So I reached out. It just made sense."
Alan reached out to Wildcat in 2018, and Lazarchik jumped at the chance to get involved. He crafted and donated a championship belt, which was auctioned off to support charities that help children in need.
The following year, Wildcat again donated a belt for the auction and also crafted title belts to be given directly to ill children. For any young wrestling fan, wearing a title belt fabricated by the company that actually makes the belts for WWE is quite a thrill.
"It's always good to pay it forward," said Lazarchik. "When I was a kid, to have an adult do something special for me, it made such an impact. If this is something Wildcat can do to help kids have a brighter day, that's something we always want to do."
Documentary Filmmaker Rick Sebak Recognized as Champion of Pittsburgh
Andrew Lazarchik, the owner of Wildcat Championship Belts, is a fan of Pittsburgh and Western Pennsylvania history. That means he's also a fan of Rick Sebak, almost by default. Sebak is legendary in the Pittsburgh region for producing scrapbook-style documentaries about the history, nostalgia, and folklore of Western Pennsylvania. From his deep dives into the history of Kennywood amusement park to his famed Things That Aren't There Anymore series, Sebak's work – especially his voice – is synonymous with Pittsburgh. Lazarchik is such a fan of Sebak that he crowned the lovable Pittsburgh personality as "Pittsburgh's Champion" and awarded him a custom-designed title belt.
How did that come to be? It started during Lazarchik's days studying at La Roche College. He took a "History of Western Pennsylvania" course and encountered Sebak's work for the first time.
"The course covered all the way back to Pre-Revolutionary times, but once we got to modern times, our professor brought in The Mon, The Al, and The O, a Rick Sebak documentary about Pittsburgh's three rivers," he recalled.
Lazarchik loved it and sought out more of Sebak's work. His fandom continued to grow, then reached new heights after becoming a father in 2008. "After my son was born, I was in charge of the evening and overnight feedings," Lazarchik recalled.
During those late-night bottle sessions, Lazarchik often would tune into the WQED Neighborhood Channel, which frequently aired Rick Seback documentaries, sometimes consecutively for hours at a time. That's when he got hooked.
"I would watch them over and over and over," Lazarchik recalled. "He has such a calming voice, and he shares some very interesting info. You can learn something new every time you watch one of his documentaries, even if you've seen it 100 times before."
So that's how the fandom evolved, but how did the Sebak-themed championship belt come to be?
In 2016, Lazarchik learned that Pittsburgh media personality John McIntyre was hosting live stage shows featuring interviews with various Pittsburgh-area celebrities. One such show would feature Sebak, and Lazarchik knew he had to be there.
"He's very iconic, and I love and appreciate his work," explained Lazarchik. "I believe in paying it forward, so I thought I'd make him a belt to thank him for everything he's done for Pittsburgh through his documentaries. He legitimately IS a champion of Pittsburgh, and I wanted to recognize him for that."
Lazarchik custom-crafted a belt for Sebak, one that featured an image of the smiling Pittsburgh icon engraved right on the main title plate. Much to Sebak's surprise, Lazarchik awarded him with the belt during the live performance. The two hit it off and remain friends today.
Not only was Sebak the inspiration behind that particular belt; in some ways, he's an inspiration for many Wildcat Belts. As Lazarchik toils away in his workshop, fabricating belts for entities from Food Network's Tournament of Champions to the WWE, there's usually a TV on in the background, and it's often Rick Sebak's calming, iconic voice providing the soundtrack.
Fandango Awards Wildcat Belt to Kevin Hart
In 2017, actor Kevin Hart sold more movie tickets through Fandango than any other performer. You could call it a "championship performance."
In fact, Fandango wanted to recognize Hart – a known wrestling fan – for the prolific ticket sales, by awarding him with a championship belt. So they turned to Wildcat Championship Belts, fabricator of championship belts for everyone from Nathan's Famous Hot Dogs to WWE.
"They already had a vision for what they wanted the belt to look like. It was up to me to bring that vision to life," said Andrew Lazarchik, owner of Wildcat.
So Wildcat got to work and crafted the belt, adorned with a big Fandango logo, movie ticket imagery, and '2017' engraved onto one of the side plates, the year of Hart's prolific ticket sales.
The actor was awarded the belt during the premier of Jumanji: Welcome to the Jungle, staring Hart.
"That was very cool," said Lazachik. "I never envisioned one of my belts would make it to the red carpet!"
Wildcat Makes World's Largest Championship Belt
When you make wrestling championship belts for a living, those belts are going to be pretty big. After all, most professional wrestlers are bigger than your average human. But imagine a title belt even bigger than a wrestling belt. Bigger even than the massive belt created for the legendary Andre the Giant. Imagine a belt big enough for a dinosaur!
In September 2018, Wildcat Championship Belts created what is believed to be the biggest championship belt ever made. They created a two-feet-tall, nine-feet-long, 50-pound belt for Pangea, Land of the Dinosaurs touring show based out of Scottsdale, Arizona.
One of the show's attractions features massive animatronic dinosaurs battling in wrestling-style matches. On the line: the Supercontinent Championship Belt, fabricated by Wildcat.
The belt was different, but the process was largely the same. It just required more materials and scaling up the process. The big jewels on a regular belt are the small jewels on this belt. It is so big it couldn't be gold plated. Because we don't have a big enough gold tank to fit something like that into it, so it had to be nickel-plated.
The result is a massive belt fit for an enormous, prehistoric champion.
Little Champs
Helping Children Become Champions
Wildcat Championship Belts has grown exponentially since our inception in 2005. As we've become the premier source for title belts and reached an international following, we are always looking to show our gratitude and give back to the community.
This is why we developed our "Little Champs" initiative to help children in need become CHAMPIONS. For every championship belt that we sell, we will donate a toy title belt to a child in need.  Over the years this program has yielded over $8000 which has given over 800 toy belts to children in need!
We look forward to building up and supporting the young CHAMPIONS in our community, and we hope you will join us!