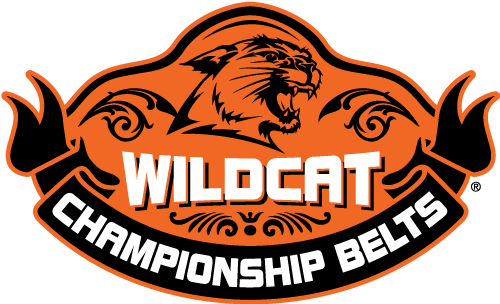 Celebrate the CHAMPION in Your Life
Is there a
CHAMPION
you want to acknowledge and celebrate?
Take your appreciation to the next level! Wildcat Championship Belts allows employers, family members, and friends the ability to show others how much they are appreciated. Whether it's for an employee of the month, a newly married couple, a retired individual, or a fantasy football champion, our design and build process allows you to uniquely acknowledge and commend their efforts and milestones.
Our high-quality, custom-made championship belts are individually designed to make every recipient BECOME A CHAMPION®.
The Wildcat Championship Belts Promise
We appreciate you choosing Wildcat Championship Belt to produce your custom made championship belt. We know that there is nothing worse than poor customer service and the last thing you want is to show up to your championship crowning empty-handed.
Our word is our bond and it is important that you as our client know that if we cannot meet your deadline, we will not accept your order. We never want to turn down work; however, we will be 100% honest with you at the time of your order.
We will answer your phone calls, reply to your emails, and if you require a specific deadline for your belt to be complete and we can't meet it, we will not accept the order.
Our Story
Wildcat Championship Belts is the culmination of the childhood dream of founder Andrew Lazarchik and his determination to succeed by bringing his passion for designing and creating custom-made championship belts to the world.
We're a small business located in Latrobe, PA, USA doing BIG things for champions around the world. We look forward to helping you celebrate the CHAMPION in your life!
Growing up in the '80s and '90s, Andrew was (and still is) a huge wrestling fan. As young as age 9, he was drawing championship belts on computer paper and wearing them around the house. As he got older, he became more creative using other household materials to make belts such as brass door kick plates, hand-held metal engravers, and left-over rubber roofing. As an adult, Andrew put forth the effort to learn how to create professional-quality championship belts.
Founded in 2005 in Latrobe, PA, USA, his original goal was to break into the professional wrestling industry to supply the titles to those champions. His perseverance, "no days off" mentality, and over 10,000 hours of practice, along with assembling a team of craftsmen, artisans, and metalworkers, eventually led Wildcat Championship Belts to become the premier source for championship belts in the wrestling industry. We provide championship belts to WWE, Ring Of Honor Wrestling, Impact Wrestling, New Japan Pro Wrestling, and many other promotions worldwide.
Our focus moved beyond the ring and into unique areas of business and leisure which require recognition, awards, and prizes. Wildcat Championship Belts now centers around creating awards for any occasion, event, or corporation.
We offer "belts for any budget" with four distinct belt styles: Economy, Classic, Victory, and Premium. Some events and clients that we've produced belts for include:
Nathan's Hot Dog Eating Contest
The Rock's "Rock The Promo" contest
VH1's The Great Debate
Tony Stewart's NASCAR race wins
Guy Fieri's Tournament of Champions
Coca-Cola
Pepsi
Google
Verizon
& More!
Top Quality Leather Craftsmanship
State-of-the-Art Engraving & Metal Work
Industry-Leading Color Fill & Gem Stone Application
Clients
Wildcat Championship Belts is the premier source for custom, hand-made championship belts. Our American small business serves a worldwide client base that is unparalleled throughout the industry.
"As a company that wouldn't normally have a championship belt, seeing our Women Who Rock one-of-a-kind belt was so much fun and beyond incredible! Wildcat handled every aspect of the design and execution flawlessly and delivered the most beautiful belt we never knew we needed. It was the hottest item in our charity raffle and we are so happy to have gone outside the box. "
— Melinda Colazzi, Women Who Rock
"When I needed an Internet Championship Belt made I found Wildcat Belts and I'm glad I did. I was highly impressed with the creative process and even more impressed with the actual finished product. This is a WWE quality championship belt."
— Matt Cardona (a.k.a former WWE Superstar Zack Ryder), Host of The Major Wrestling Figure Podcast

"The level of quality in the belts produced is amazing. Because we are an all-female MMA promotion I wanted to create a belt that wasn't your typical belt. The staff worked with us to develop the perfect belt for our promotion. I think Invicta has the best-looking belt in the sport thanks to Wildcat Belts helping us achieve our vision."
— Shannon Knapp, Invicta Fight Club
"Our president and general manager roared so loudly when I handed the belt to them I thought they were going to shatter the glass in the conference room.
Their faces lit up and frankly I got chills taking it out of the box. Wildcat Championship Belts presented us with a stellar and fantastic product (and three days ahead of our required delivery date) so thank you."
— Jon Grusky, HYTORC Division UNEX Corporation
"I've worked with Wildcat Belts three times already to create a belt for the Pittsburgh Pirates, Miami Marlins, and Carolina Hurricanes sales teams. We've used these belts for our monthly sales champion and the staff loves it. Great way for reps to brag to their peers as they walk around the office with the belt on their shoulder or around their waist. These belts are top-notch quality and I would recommend them to anyone looking for a unique award that provides a WOW factor."
— Tom Peluso, Carolina Hurricanes (Formerly with Miami Marlins and Pittsburgh Pirates)
"What a great experience. If you want to motivate your team and get them playing like champions, there's no better reward than a championship belt from Wildcat. If you want to symbolize a valued partnership, make it a tag team champion belt and give it to your partner! Wildcat provided great service throughout the whole design process, and has always delivered a high-quality product that impresses everyone. Thank you, Wildcat, for giving us a boost!"
— Toby Rice, President of Rice Energy
"At Battle Arts Academy, we strive to provide the very best Sports Entertainment Education possible. Every detail has been carefully thought out. Our titles are no exception. We have the nicest looking Championship belts that I have ever seen. In my trophy case, they even outshine my WWE titles."
— Anthony Carelli / Santino Marella, WWE Superstar & Owner of Battle Arts Academy